PCW Night of Champions
PCW Hall
Archbold, OH
Monday September 27th
Host: Johnny Suave
Loud PCW chant as the show begins.  'The Voice of PCW' Johnny Suave welcomes everyone to PCW Night of Champions.

Johnny Suave and his life size cardboard cut-out of Shania Twain
*flute and clarinet flourish*
Two men come out and unroll a white carpet to the ring steps. Dancers then dance. Ballet dancers…ballet? Little children walk up the white carpet and drop rose petals. Someone lets loose some pigeons…not sure just how they'll get out of the building.  The crowd stands as PCW CEO Barack Obama appears.  Behind Obama walks Joe Biden.

PCW CEO Barack Obama
Obama and Biden climb into the ring accompanied by Hillary Clinton and Rahm-bo aka Rahm Emanuel.
Obama's out because of the demands made by Axis of Evil leader Mahmoud Ahmadinejad.
*omnious music plays*

Mahmoud Ahmadinejad
Ahmadinejad, accompanied by Khalid-El, Venezuelan dictator Hugo Chavez with Fernando Venezuela, and North Korea's Kim Jong-Il with Byung Hyung Kang, walk to the ring to a chorus of boos.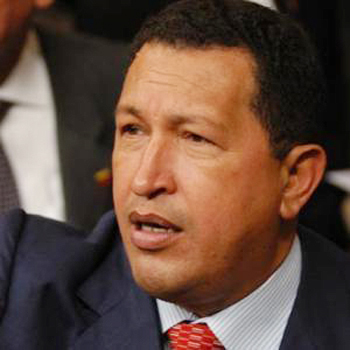 Hugo Chavez and Kim Jong-Il
Ahmadinejad and the rest of the AoE climb into the ring.  Ahmadinejad states he's come to PCW to correct an injustice.  An injustice towards one of his wrestlers that he feels needs to be addressed.  Ahmadinejad complains that his wrestler, Khalid-El, is being passed over for a title shot in favor of a woman.  He holds up a photo of Jill-Berg and turns to Obama.  He calls it an outrage that this…woman…gets a shot at the PCW title instead of Khalid-El.   Ahmadinejad then adds that this is to be expected from a country hose government orchestrated the 9/11 attack to reverse the declining American economy and its grips on the Middle East in order also to save the Zionist regime. The majority of the American people as well as other nations and politicians agree with this view.
At that point, Obama, Biden, HRC, and Emanuel leave the ring in protest as the crowd boos Ahmadinejad.
Ahmadinejad adds that the attack could have been the work of terrorists, supported by the U.S., which "took advantage of the situation" as more boos rain in.  He again demands justice for Khalid-El and a title shot and wants his answer now.  Then Ahmadinejad finally realizes that Obama et al have long since left the ring area and heads off to search for him.

Paige McGillicutty
Backstage, Paige McGillicutty talks with Triple R.  He, too, complains.  He doesn't want to waste the time to wrestle Jill-Berg when it's clear that he'll wipe the ring up with her.

Kimber Marshall
Kimber Marshall introduces the first match of the night.
MATCH #1 FOR THE PCW TELEVISION TITLE


Ken Worth- The American Trucker (I-American Heartland) (c) w/ Tequila Sheila
vs.


Doug 'King Kong' Kingman (R)
Summary
Big PCW chant before the bell. Kingman and the American Trucker did some nice back and forth counter wrestling early. Kingman tried to use his power moves while Worth was effective in countering.  Worth armdragged Kingman to the floor. Worth whipped Kingman into the steel guardrail. Worth nailed a missile dropkick off the top. Kingman came back with a lariat. Worth came back with a spinning kick, which connected after Kingman ducked twice and Worth kept spin kicking.  Kingman went for a combination but was thwarted by Tequila Sheila and his steel blender.  Back in the ring, Worth hit a North Star Press for a two count.  Worth nailed a superkick but Kingman escaped a Jake Brake attempt.  Kingman nailed the Combination but Worth kicked up. Kingman went to the top and motioned for the elbow, then missed when Tequila Sheila came over and pushed him off.
Kingman then took control, working on Worth's arm. Worth came back with a bulldog out of the corner. Kingman came back to choke him against the ropes. Kingman went to the ropes and came off but Worth tried to kick him. Kingman caught the boot and went for an elbow but Worth moved. They traded punches in the center. Worth came back with a flying forearm. Worth went for the Jake Brake but Kingman avoided it and hit the rolling Samoan Drop for a two count. Kingman missed the top rope swanton. Worth nailed the Jake Brake and scored the pin.
WINNER AND STILL PCW TELEVISION CHAMPION: Ken Worth- The American Trucker @ 15:20
Suave notes that the guile and experience of Ken Worth comes out on top of the brute power of Doug Kingman.
Paige McGillicutty has Jill-Berg with her.  Berg dismisses Ahmadinejad's complaints about her.  McGillicutty asks if she has any concerns about the Axis of Evil interfering in the match.  Berg says no and brings out…
…Daisy Cutter-Bomb.  Suave happily notes that DCB returns to PCW after a lengthy absence and mutters something about absence…or was it abstinence… making the heart fonder.  Berg says she's confident that Daisy Cutter-Bomb will watch her back against Triple R.
MATCH #2 FOR THE PCW TAG TEAM TITLE
The Kings of Old School: Ricky Michaels and Marty Lane (c) w/ 'Rahm-Bo' Rahm Emanuel (D)
vs.


The International Hit Squad: 'Foul Pole' Andy Golatta and Daniel-San w/ Mrs. Miyagi (I)
Suave states it's the Democrats versus the true Independents in this battle as Golatta and Daniel-San have not joined a faction to date.
Summary
Ricky Michaels took the mic before the match. Big "PCW" chant. Michaels said that "These people are ready." He told Golatta and Daniel-San that they were in the wrong place at the wrong time because they were the most hardcore team in PCW.  He said that if there's one thing that Kings of Old School does better than anyone else, it was giving their people what they want to see- the Democrats in the victory column.  Fans began chanting for Golatta and Daniel-San which pissed the Kings off.  Golatta and Daniel-San attacked them from behind. The Kings came back and tossed them to the floor. They brawled on the floor and the aisle. Fans chanted PCW.  Golatta took a camera from a cameraman and then shot Michaels as he was out on the floor. Golatta and Lane returned to the ring with Golatta drilling him with a back elbow. Lane came back with a swinging neckbreaker.
Daniel-San tagged in and cleaned house.  He teased a Cattle Mutilation after a backdrop but Lane dove out of the ring.  Daniel-San followed him and slammed Lane facefirst into the canvas.  Rahm Emanuel got involved and helped Lane cut off Daniel-San.   They returned to the ring and Lane reversed a whip and sent Daniel-San hard into the buckles, then drilled him into the mat.  Daniel-San was choked against the ropes with help from Emanuel.  Lane came off the ropes and dropped an elbow. Lane cinched in a side chinlock.  This time, Mrs. Miyagi intervened, distracting Lane while Daniel-San came back with a back kick.  Michaels now in the ring.  He grabs Mrs. Miyagi and tosses her out of the ring.   Lane with a forearm to Daniel-San and went back to the side chinlock.
Michaels tagged in with a slingshot senton.  The Kings of Old School worked Daniel-San over in their corner.  Golatta tagged in and cleaned house.  Golatta got a table and set it up as Lane returned to the ring.   Both teams brawled in the ring with cooking sheets and a trash can/lid.  Daniel-San got busted open.  Daniel-San played the face in peril as Michaels and Lane took turns beating on him in the corner.  Golatta finally got the hot tag in.  Golatta gets a two count and tags Daniel-San back in as Lane tags in Michaels. Daniel-San fires off some lightning kicks. Michaels locks in an armbar, but Daniel-San reaches the ropes for the break.  Daniel-San is able to lock in a single leg crab, but Marty Lane threatens to get in the ring and the breaks the hold. Lane charges in anyway and Golatta and Daniel-San set up a double tree of woe and finish off the FBI with a killer baseball slide drop kick!  The Kings attempt to regroup but Mrs. Miyagi goes up top and surprises everyone with an insane Asai Moonsault to Michaels and Lane outside of the ring!  Golatta gets back in the ring but Emanuel pulls him out. Golatta sucks up the strength to get back in the ring as Lane heads in for a two count on Golatta. Lane sets up Golatta in a camel clutch and Michaels dusts him off with a drop kick to the face. Daniel-San enters and kicks the crap out of Lane.  That sends him out the ring. Michaels gets a 2 count on Daniel-San who's now legal.  The Kings tries to double team Daniel-San but he nails them with a reverse flying elbow.  Golatta enters the ring and he and Daniel-San set up a stereo sleeper submission hold.  Emanuel gets in the ring and Golatta and Daniel-San drop him with a twin drop kick.  Lane and Michaels capitalize and ambush Golatta and Daniel-San.  Golatta is sent out the ring over the ropes and into first row.  Lane and Michaels hit a double fisherman driver on Daniel-San and get the 3 count.
WINNER AND STILL PCW TAG TEAM CHAMPIONS: The Kings of Old School: Ricky Michaels and Marty Lane (D) @ 24:17

Post match, Emanuel drops an F-Bomb on Golatta while Lane and Michaels continue their beatdown of Daniel-San.
Mrs. Miyagi climbs to the top turnbuckle again and out of nowhere runs down the Leader of the PCW Competition Committee Nancy Pelosi.
Pelosi tries to pull Mrs. Miyagi off the top rope.  Then…
THUMP
THUMP
THUMP-THUMP-THUMP
THUMP
THUMP
THUMP-THUMP-THUMP
The video screen goes to just outside a dressing room in the back. A police escort is waiting at the door. One of the policemen knocks on the door.
Policeman – Ms. Berg.   It's time.
The door opens and four large male bodybuilding types walk out of the dressing room surrounding a petite woman, her male assistant, Jerry, and Daisy Cutter-Bomb.  Berg and Daisy run towards the ring.
THUMP
THUMP
THUMP-THUMP-THUMP
The crowd chants "JILL-BERG…JILL-BERG…"
THUMP
THUMP
THUMP-THUMP-THUMP
"JILL-BERG…JILL-BERG…"
Jill runs up to Pelosi.  RED MIST IN THE EYES!  Jill-Berg with a buzzsaw kick and Pelosi is down.  Emanuel over…Daisy Cutter-Bomb cuts him off.  Kick to the balls…Daisy Cutter Powerbomb!
Here comes Triple R with a steel chair!  He goes after Jill-Berg.  Daisy punches the chair into Triple R's face.  Jill-Berg with a buzzsaw kick into the chair.   Triple R down.  Daisy drags him up…DAISY CUTTER POWERBOMB ON THE FLOOR!  Suave thinks he's dead.
Pelosi is trying to get the red mist out of her eyes as Daisy throws Triple R into the ring.
MATCH #3- WINNER GUARANTEED PCW TITLE SHOT AT EXTREME ELECTION 2010
Jill Berg (R)
vs.
Triple R (D)
Daisy in the ring.  She picks up Triple R…SPEAR!  Daisy drags him up…JACKHAMMER SLAM!  She pulls him up…Jill Berg with another buzzsaw kick.  Cover…1…2…3!
WINNER: Jill Berg (R) @ :33
Pelosi finally clears her eyes and sees what just took place.  She cries out 'NOOOOOOO!' as Berg points at her.  Pelosi stomps up and down outside the ring.
Suave screeches 'AXIS OF EVIL' as Khalid-El delivers a vicious forearm shiver to Jill Berg's back.  The big 7 footer Fernando Venezuela spins Daisy around and grabs her by the throat.  CHOKE SLAM!   Mahmoud Ahmadinejad, Hugo Chavez, and Kim Jong-Il walk down with big smiles on their faces as Khalid-El, Venezuela, and Byung Hyung Kang stand over the fallen Berg and Daisy.
Backstage, Paige McGillicutty has rock star Katy Perry.  Perry plays the video of her duet with Sesame Street's Elmo that the children's show decided not to play due to the low-cut dress she was wearing. 
Suave: "Yeah.  It's because she's got a big rack and it showed even though Perry was wearing a flesh colored cover underneath.
Suave: "Wait…I see what the problem is.  Elmo is naked!
Quick recap of the 'One Man Hollywood A-List' Stone Chism's (D) win over Kevin Scott (R) last week.
MATCH #4 FOR THE PCW TITLE
'The One Man Hollywood A-List' Stone Chism (D)
vs.


Yamamoto Tanaka (c) w/Reika Kisaurgi (D)
Chism took the mic and said it was great to be back in PCW with all of his fans.  The crowd, of course, booed him in return.  Chism told them you're going to enjoy the best wrestler in the house and watch the referee count 1-2-3 for him.
Summary
They locked up but Tanaka shoved Chism down to the mat. They locked up again but Tanaka kicked him in the gut and began beating on Chism.   Chism came back and tossed Tanaka to the floor. Chism did the flip off the apron to the floor. Chism tossed a bunch of weapons into the ring. He then took chairs from the front row and tossed them into the ring. Chism beat Tanaka with punches against the rail outside but Tanaka nailed him. Chism signalled for taking Tanaka out into the crowd but was picked up and crotched on the railing. Tanaka whipped him into the rail, then beat him with a chair. They battled back into the ring.   Tanaka wedged a chair in the corner but Chism nailed Tanaka several times with a trash can to the head. Tanaka finally punched the can into Chism and took him out.  Tanaka grabbed a broom and nailed Chism with it. Chism was busted open by this point. Tanaka trashed Chism with weapons to the head. Tanaka began cranking on Chism's neck and wrenched it as Chism looked to the crowd for support. They rallied him but he was caught with a clothesline. Tanaka drilled Chism in the gut with a chair, then did it a second time.  Tanaka went to do the Earthquake splash but Chism crotched him on a chair.
Chism fired up on offense and nailed a high cross bodyblock for a two count. Chism nailed Tanaka with a chair. He whipped Tanaka into the corner but was caught and sent into the chair that was positioned there. Tanaka chokeslammed Chism for a two count.  Tanaka went to the top rope but was caught by Chism and tied upside down to the tree of woe.   Chism nailed him with a trash can. He went to the corner and hit a running dropkick into the corner.  Tanaka nailed the Choke Slam but only got a two count.  Tanaka went to the outside and poured thumbtacks across the mat.  Tanaka nailed Chism again and pulled him up.   He shoulderblocked Chism through the ropes, then powerbombed him into the tacks.  Chism screamed out in pain.  Tanaka took him back to the ring and climbed up the corner turnbuckle.  Chism tried to fight out but in the end…JAPANESE SUPERDESTROYER!  Tanaka rolled onto Chism and scored the pin.
WINNER AND STILL PCW CHAMPION: Yamamoto Tanaka (D) @ 18:50
Tanaka and Reika celebrated together in the ring as the show went off the air.
Filed under: 2010 Election, Average Joe, Barack Obama, Blogs- Pro Wrestling, democrats, Hillary Clinton, Independents, joe six pack, Joe the Plumber, Paul Heyman, political satire, political wrestling, Politics, Pro Wrestling, red state, republicans, Small Town America, Third Party, wordpress political blogs | Tagged: Hugo Chavez, joe biden, Katy Perry, Mahmoud Ahmadinejad, Nancy Pelosi, Rahm Emanuel | 2 Comments »