PCW on P-SPAN Recap
Thursday July 19th, 2012

Red Brand Show- Hour 1
San Diego, CA

Building on their dust up from Monday, Big Oil (R) and PCW Television Champion Dawn McGill headlined the Red Brand Show last night in a match for McGill's TV belt.
With Big Oil's Corporate Might buddies (Kirk Walstreit- The Wall Street Market Analyst with the Man Crush on ESPN's Kirk Herbstreit, and CEO Gordon Guyko on hand) and what seemed to be a never ending series of assists from Republican referee Thurstin Powell III, it appeared Big Oil was going leave the ring with the TV title.
But as promised, Charlie Blackwell and a rag tag group of independent wrestlers invaded the Valley View Casino Center and evened the odds.   Big Oil then whipped McGill to the corner and charged.  The Television Champion ducked out and Blackwell, Mike the Mechanic, and Dan Van Dam pulled Big Oil to the floor.  Powell III checked on Big Oil and nearly got clocked by a McGill swan dive off the top rope.
Back in the ring, McGill whacked Big Oil with her kendo stick and then applied to the Crossface Chickenwing to force a tap out.
The Republican wrestlers streamed out and attacked McGill after the match leading to another run in by…
…the oversized (five and a half foot tall), foul mouthed, stuffed talking bear who, along with Blackwell et al, beat back the Republican charge..
In other items from the Red Brand show:
Michele Bachmann (R-MN), Louie Gohmert (R-TX), Trent Franks, (R-AZ), Thomas Rooney (R-FL), and Lynn Westmoreland (R-GA)  called on PCW to investigate an alleged plot by Islamists to infiltrate the hallowed halls of the U.S. government and singled out Huma Abedin, deputy chief of staff to Hillary Rodham Clinton.
PCW Tag Team Champions Scott Walker's Rangers (Ronnie and John Walker) (R) def. Occupy Wall Street Nate and Shane.  After the match, Bain (D)…
Bain- a business created by Bain & Company, uses its extensive network, sector expertise and business screening capabilities to identify attractive small to mid-cap investment opportunities for its private equity investment partners.

Not…

Bane- (legally trademarked character of Marvel Comics)
…ran out and chokeslammed both Walkers after the match.
This time, Mitt Romney (R-MA) was ready as PCW Red Brand Champion Yamamoto Tanaka (R) and 'The Original Rookie Sensation' Starz N. Stripes ran down to make the save and chase Bain to the back.
'The Innovator of Extreme Broadcast Excellence' Rush Limbaugh then accused Marvel comics and the new Batman film 'The Dark Knight' of being anti-Romney, anti-Republicans because the villain is named Bane (see above).
The Voice of PCW Johnny Suave noted that the 'Bane' character was actually created in 1992 by conservatives Chuck Dixon and Graham Nolan and the whole Dark Knight Conspiracy theory.  However, he was hushed down by conservative co-host Laura Ingraham who said of Limbaugh, "Shhh, facts, schmacks, he's on a roll right now."
Tanaka and Starz also formally signed off on their match next week for the PCW Red Brand title.
At the end of the Red Brand hour, PCW Competition Committee Chair John Boehner…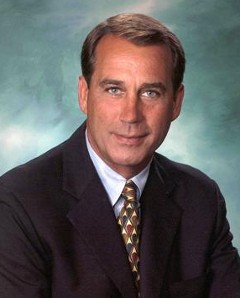 John Boehner (R-OH)
…not to be confused with…
Bain- a business created by Bain & Company, uses its extensive network, sector expertise and business screening capabilities to identify attractive small to mid-cap investment opportunities for its private equity investment partners.

Not…

Bane- (legally trademarked character of Marvel Comics and contrary to what a certain right wing talk show says not created specifically for the new Batman movie by left wingers trying to score political points)
Boehner came out to defend Huma Abedin, the deputy chief of staff to Hillary Clinton (D-NY) and wife of former member of the PCW Competition Committee Anthony Weiner (D-NY).  Boehner told the crowd that he didn't know Abedin that well but from everything he's heard of her she has a sterling character.   Besides, anyone who can put up with Anthony Weiner on a daily basis should be considered for sainthood.
Boehner:
I think accusations like this being thrown around are pretty dangerous."
Blue Brand Show- Hour 2
San Francisco, CA
It was an international showdown that main evented the PCW Blue Brand show as Daniel-San and PCW Blue Brand Champion 'The One Man Hollywood A-List' Stone Chism faced off against Bashir Assad's Syrian Assassins.
The match came to a controversial end when Daniel-San had Syrian Assassin #1 in the LaBell Lock and it appeared the Democratic duo would get the win.  But then out of nowhere, Eastern Powers Foo Qu of China and Russian Sergei Sardominov hit the ring and vetoed the Democrats submission.  The match then broke down from there with an angry Hillary Clinton (D-NY) climbing up onto the ring apron and yelling at the Eastern Powers.
Triple R (D) and Chism also signed the contract for their big match next week for the PCW Blue Brand title.
And PCW Champion The Sanderman (D), with 70 stitches in his head from Ted E. Dangerously beer bottle blast, went off on a tirade on the PCW newcomer.  He says that the independents apparently have a new champion in a oversized stuffed beer who cowardly attacks people from behind.  Congratulations.  Where does that The Sanderman?  He's still the PCW Champion, that's what.   He's still going to PCW Night of Champions in under a month as the champion and there's nothing anyone can do to prevent that.
As for Ted E. Dangerously and the Independent traveling show, The Sanderman said they're acting as if PCW is some extreme version of the Wild West.  The bottom line is, The Sanderman has balls and doesn't attack from behind- unlike Ted E. Dangerously.  He says if the Independent's can't act appropriately and give him, the PCW Champion, the proper respect he deserves, then the days where the Sanderman appears on PCW Extreme Political TV are going to be few and far between.
The camera spotted actor Fred Willard out in the crowd.  He appeared to be enjoying the PCW show and…and……oh…never mind.
Paddy O'Kennedy (D) def. 'Rainbow' Trout Stevens
Andy 'The Foul Pole' Golatta (D) def. Steve Torino- Used Car Salesman
At the end of the show, Democrats were getting ready to respond to the remarks Michele Bachmann et al made at the Red Brand show earlier in the night.  But then…

'Straight-Shooting Maverick'
John McCain (R-AZ)
McCain has a microphone and beats the Democrats to the punch.
"Rarely do I come to the floor of this institution to discuss particular individuals.  But I understand how painful and injurious it is when a person's character, reputation and patriotism are attacked without concern for fact or fairness."
McCain then called Huma Abedin a friend and a devoted public servant and lit into the "sinister" accusations that were made.  He called the charges "nothing less than an unwarranted and unfounded attack on an honorable woman, a dedicated American and a loyal public servant.  These attacks on Huma have no logic, no basis and no merit. And they need to stop now."
McCain chastised fellow Republicans for distorting what it means to be an American.
PCW Shows This Weekend:
PCW Red Brand Shows:
Saturday- Salt Lake City, UT
Sunday- Phoenix, AZ
PCW Blue Brand Shows:
Saturday- Reno, NV
Sunday- Portland, OR
PCW Independent Shows:
Saturday- Effingham, IL
Sunday- Anderson, IN
Filed under: 2012 Election, Average Joe, Barack Obama, democrats, Independents, joe six pack, Joe the Plumber, Paul Heyman, political satire, political wrestling, Politics, Pro Wrestling, red state, republicans, Small Town America, Third Party, wordpress political blogs Tagged: | Fred Willard, Hillary Rodham Clinton, Huma Abedin, John Boehner, John McCain, Marvel Comics, Mitt Romney, Valley View Casino Center