DEMOCRATS LOCKER ROOM
Former 3-time PCW Champion Yamamoto Tanaka (D) gathers his stuff from a locker and stuffs it in a duffel bag.
Nancy Pelosi (D-CA) walks in.  She wants to know what he's doing.  Tanaka, through his interpreter, tells her he's just packing his stuff up.  Pelosi sharply tells him she expects Tanaka to be available to help O'Beck Bahama win the PCW title 'since he couldn't get the job done against Daniel-San.'  Pelosi turns to leave.  Tanaka glares at her as she goes.
BACKSTAGE
Radio Talk Host Dennis Miller (R-CA) endorses Herman Cain (R-GA)to be the next PCW CEO.  Miller holds up a prospective bumper sticker for Cain, "Cain Versus Not Able." 
Suave says Miller has supported Cain for several months, and even directed his listeners to Cain's campaign website.
MATCH #6
PCW Tag Team Title Match
PCW Tag Team Champions The Schmidt Brothers: Jack and Joe (R) w/Ron Paul (R-TX) and Vince Vaughn vs The California Teacher's Union: 'Foul Pole' Andy Golatta and Malibu Dusty (D) w/'The Self Proclaimed Savior of the Middle Class' Big Labor (D) and the Longshoremen (D)
Suave says this should be an all-out war.  The Schmidts, 3 time PCW Tag Team champions, took back the title from the CTU at PCW Loose Cannons Unleashed.  Now, the Schmidts find themselves up against not only the CTU but the unions fighting back to keep their political power. 
Suave adds the big question in this match is the big rumor that Charlie Blackwell, 'No Frills' Chris Escondido, and Blackwell's Les Miserables will intervene in this match on the Schmidt's behalf.  If so, not only will there be plenty of action in the ring, they'll be a lot of action outside the ring as well.
…Jack Schmidt with some boots to Malibu Dusty.   Andy Golatta in and delivers some chops to Jack.  Joe Schmidt with the blind tag and he and Jack hit Malibu Dusty with a nice double team cutter.  Cover…1…2…Big Labor makes the save.  Vince Vaughn yells something at Big Labor.  The CTU began double teaming Jack and Malibu Dusty starts to work on the neck of Jack…
…Golatta gets a right hand shot in on Jack.  Jack down; Golatta covers…1…2…Vince Vaughn makes the save?  Golatta grabs Vaughn and Malibu Dusty comes in for a double suplex.  But the crowd roars and it's the Jersey Boyz: Vinnie and Frankie (R) w/Mona Lisa and Chris Christie (R-NJ).  Vinnie saves Vaughn and Jack tags in Joe.  Joe sets up Golatta for a neckbreaker and Jack chops him before he drops him.  Joe covers…that gets two…
…Outside the ring, the Jersey Boyz brawl with The Longshoremen and Independents Blackwell and Escondido go into the crowd with Big Labor and fellow Democrat James the Jeep Worker.  Inside the ring, Malibu Dusty hits a big suicide dive onto the Schmidts.  Golatta takes a running, flying knee smash and misses, hitting the corner turnbuckle.  The fans chant "PCW…PCW…"  Joe hits a flying bodypress on Golatta.  Jack hits a clothesline while Joe simultaneously hits a leg sweep.  Suave: "TOTAL ELIMINATION!"
Joe hooks the legs…1…2…3.
WINNER AND STILL PCW TAG TEAM CHAMPIONS: The Schmidt Brothers: Jack and Joe (R) @ 16:33
The Schmidts celebrate as the brawling continues.  Then…
Suave: "IT'S ATTACK WAAAAAAATCH!"
Attack Watch runs to the ring and bowls over Blackwell and Escondido.  Clothesline to Vinnie.  Clothesline to Frankie.  Big Boot to Blackwell.  Big Boot to Escondido.  Kenzie Blackwell jumps on Attack Watch's back and attempts to choke him.    Security steps in and tries to seperate everyone.
BACKSTAGE
PCW Barack Obama talks with PCW Investigative Reporter Woodward Bernstein.
Obama: "If we don't prepare our people with the skills that they need to compete, we're going to have problems.  If we don't make sure that we continue to have the best infrastructure in the world, we're going to have problems.  If we're not continuing to invest in basic research, we're going to have challenges.  If we don't get our fiscal house in order in a way that is fair and equitable so that everybody feels like they have responsibilities to not only themselves and their family but also the country that's given them so much opportunity, we're going to have problems.  And so I am extraordinarily confident about America's long-term future.  But we are going to have to make some decisions about how we move forward.  And what's striking to me is, when we're out of Washington and I'm just talking to ordinary folks, I don't care whether they're Republicans or Democrats, people are just looking for common sense.  The majority of people agree with the prescriptions I just offered.  The majority of people by a wide margin think we should be rebuilding our infrastructure.  The majority of folks by a wide margin think that we should be investing in education.  The majority of people by a wide margin think we should be investing in science and technology.  And the majority of people think by a wide margin that we should be maintaining programs like Social Security and Medicare to provide a basic safety net.   The majority of people by a significant margin think that the way we should close our deficit is a balance of cutting out those things that we don't need, but also making sure that we've got a tax code that's fair and everybody is paying their fair share."
Chaz Bono Backstage
Chaz Bono visits PCW backstage.  Suddenly, someone runs out and shouts: ""Chaz Bono how low can this show sink! Well you have certainly addressed the gay community. Guess this will not be a family show any longer! Lost my family!"
Def Leppard's 'Tear It Down' begins.
You got the look of a howlin' wolf
I like it
The kind of eyes that could start a fire
Yes, I like it
Suave:  "IT'S THE EXTREME EQUALIZER- WHISKEY…TANGO…FOXTROT!!!!"
A streetwise dynamo
I switch you on and I watch you go
A thrill to touch, you're so hot
I'm coming for you ready or not
I'm gettin' ready
Livin' on the edge of a dream
Gettin' ready, I'm gettin' ready
Oh, switch on your lovin' machine
Crowd: What the #$##!  What the #$##!
Tear it down
There's got to be a better way
Tear it down
I can't wait another day
The guy tries to escape.  The Extreme Equalizer grabs him and lifts him in the air.  Then WTF delivers a powerbomb and flips him off.
Tear it down
There's got to be a better way
Tear it down
If only you could stay
All night long
Replay: 7/18 PCW Extreme Political TV
Match #3 for the King of Extreme Title
Rush Limbaugh
Sean Hannity
Ann Coulter
Markos Moutilsas
Arianna Huffington
'Hardball' Chris Matthews
Glenn Beck
Laura Ingraham
Bill O'Reilly
Alan Grayson
Rachel Maddow
Keith Olbermann
…Al Gore immediately goes over to Beck and starts caning the ever-livin' crap out of him.  Then…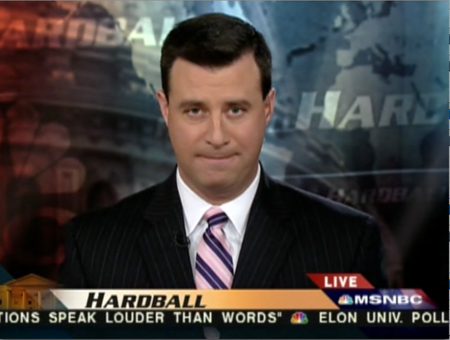 David Shuster, Shannyn Moore, and Andrea Mitchell
…the FOK News All-Stars come out and join Gore in the beat down of Coulter.  Olbermann urges them on while wearing the crimson mask.  Shuster and Gore hold Coulter up.  Olbermann can't see very well.  He charges Coulter.  SPEAR!]
Sauve: "SPEAR RIGHT OFF THE TOP OF THE CAGE!  HOLY CRAP!"
[Olbermann and Coulter land in the ring after going through the other levels of the cage.  They're both out.  But Olbermann lands on top of Coulter.  The referee makes the count...1...2...3.]
MATCH #7
PCW King of Extreme Title Match
PCW King of Extreme Champion Keith Olbermann (D) vs. The Queen of Political Extreme Ann Coulter (R)
Suave notes that Olbermann has held the title since July 18th when he won a battle royale on PCW Extreme Political TV.  Now, he faces an extreme challenge from 'The Queen of Political Extreme' herself Ann Coulter.  Her recent Facebook remarks about Troy Davis the night he was executed show that Coulter is in rare form.  For his part, Olbermann continues to do the things he usually does, rip Sarah Palin, rip Republicans, but on a much smaller scale than before- on Current TV.  Can Olbermann's usual schtick hold up against 'The Queen of Political Extreme?'
The bell rings.
Olbermann has the FOK News All-Stars (David Shuster, Shannyn Moore, and Martin Bashir) with him. Back and forth to start.  Coulter lands a loud slap to Olbermann's face.  Stand off, and the crowd cheers.  Chops in the corner by Coulter.  She goes for a 10 punch count along but Olbermann puts a stop to it with an atomic drop at 4.  Suplex by Olbermann.  He gets a chair and sets it up in the corner.  Sends Coulter in shoulder first.  Snapmare? Olbermann covers- Coulter kicks out at 2…
…Olbermann and Coulter trade punches back and forth.  Coulter with a bionic elbow, with a mule kick thrown in for good measure.  Shuster and Moore on the ring apron.  The Tea Party: Average Joe, NRA, and 'Tin Cup' Ray McAvay, runs down and beats them to the back.  Olbermann distracted, Coulter with a chairshot.  Coulter covers…1…2…Olbermann kicks out.  Olbermann is bleeding.  Coulter with a basement dropkick.  She covers again for 2.  Olbermann goes for spinebuster, Coulter floats over and hits a neckbreaker on the chair…
…Coulter rolls under a Dragon Suplex.  She gets the Downward Spiral and then floats into the Koji Clutch.  The crowd now comes to life.  Olbermann gets the ropes.  Coulter's got the cheese grater out…CHEESE GRATER!   Coulter with some elbows to the neck and folds him up with a SICK neckbreaker.  She makes the cover and here comes the FOK News All-Stars again followed by the Tea Party.  Average Joe, NRA, and McAvay pull Shuster, Moore, and Moore off the ring apron to the floor.  Olbermann's distracted…Coulter with the chair…*WHAM!*  Olbermann's down.  Coulter rolls him up…1…2…NO!  Olbermann kicked out.  The crowd can't believe it.  Coulter can't believe it.
Coulter takes the chair and slams it across his back.   Cover…1…2…KICK OUT!  Olbermann up.  Coulter with a side headlock…DDT on the chair.  Another cover..1…2…SHOULDER UP! Coulter with a rolling senton bomb.  Cover…1…2…AGAIN, KICK OUT!  Coulter slams the mat with her hand.   She slides out and pulls a table out.  She throws it in the ring and then sets it up.  Olbermann moving.  Coulter stomps at him and pulls him up.  She's going for an Acid Drop…THROUGH THE TABLE!
Suave: "HOLY CRAP!"
Coulter hooks the legs…1…2…3!  New champion!
WINNER AND NEW KING…ER…QUEEN OF EXTREME CHAMPION: Ann Coulter (R) @ 21:55
Coulter sits on the mat and tries to catch her breath.  The FOK News All-Stars are not happy and complain to the referee.
More to come…
Filed under: 2012 Election, Average Joe, Barack Obama, Blogs- Pro Wrestling, democrats, Independents, Joe Biden, joe six pack, Joe the Plumber, Paul Heyman, political satire, political wrestling, Politics, Pro Wrestling, red state, republicans, Small Town America, Third Party | Tagged: Ann Coulter, Chris Christie, Dennis Miller, Herman Cain, Keith Olbermann, Nancy Pelosi, Vince Vaughn | Leave a comment »